Sampietrini are the tiny cobbles used in historic areas of Rome. They're particularly common in my favourite area, Trastevere. They're great because they allow rain to run off and disappear easily, they're incredibly hard wearing and they adapt to uneven ground easily. Sampietrini means little St Peters, named after the people who maintain St Peter's.
They have also been the Roman rioter's weapon of choice. Who would leave a large store of half-brick equivalents easily available when there's civil disturbance possible?
I'm exploring this morning with only a small film camera, an Olympus Trip 35, and yes, before you ask, that's the one advertised by David Bailey. I have an experimental film, a Revolog Kolor, which is already pre-exposed with rainbow colours. That seems to be quite a good choice given the monochrome morning after heavy rain.
Squirrels are athletic animals that can leap over five feet from the ground and navigate around power lines, trees and the roofs of buildings. Their physical prowess is well documented, but scientists are only beginning to understand the role that their sense of smell plays in their lives. The creature's strong sense of smell is highly-advanced, but they also have keen hearing, exceptional eyesight and a spatial memory more developed than previously thought. Before contacting wildlife control in Markham, you can learn more about the squirrels' sense of smell in these passages.
The Benefits of a Squirrel's Sense of Smell
Unlike many of their relatives, squirrels are diurnal creatures that forage for food during the daylight hours. Before the temperature drops in late fall, squirrels frantically gather and hide food to prepare for winter. Their sense of smell plays a significant role in their hoarding activities.
Detecting Food
If you have fruit trees or trees producing nuts, your yard is undoubtedly a popular destination for squirrels. Squirrels can smell the fallen treats when they're inspecting a yard for food, and they'll gather as much as they can before moving to another property. Although they can consume practically anything, they're picky about their nuts. Squirrels smell their food to check for signs of rotting, and they also twirl the nut around in their hands to ensure an insect did not hollow it out. After they've inspected their loot, they hide their collection in a hole in the ground, or hollowed-out portion of a tree.
Locating Stashes
Since food is limited during the winter for squirrels, the creatures rely on their hidden stashes to feed them throughout the season. In the past, researchers believed that squirrels buried their food at random and used their powerful sense of smell to locate the stashes. However, new research has shown that theory to be partially true. They can smell nuts buried under dirt and snow, but it's their memory that helps them locate their multiple hiding places. Scientists believe that they use landmarks like trees and buildings to remember where they hide nuts. When they return to an area they recognize, they inspect it with their noses to pinpoint the stash location.
Recognizing Family
Squirrel dens are typically made of members of the same family, but how do squirrels recognize their relatives? Both male and female squirrels have scent glands they use to mark their territory, and each squirrel can detect their kin from the unique scent. This benefits the breeding process and prevents the squirrels from mating with family members.
When Squirrels Invade Your Property
Squirrels are entertaining to watch when you're relaxing at home, but you may not be so fond of them if they attempt to use your house as a habitat. Squirrels are attracted to food odours, and they'll target your home if it offers plenty of sustenance. The animals have sharp, powerful teeth that can gnaw through wood and plastic to gain access to your attic to build a den. Keeping your yard clean and free of fallen nuts and fruit can make your property less appealing to squirrels. Keep your yard free of food waste, and use sturdy trash cans with lockable handles to reduce food odours.
Squirrels can leap from tree branches to your roof, but you can trim back the limbs near your house to make the jump more challenging. If you have a plastic or wood attic vent, you can attach steel mesh over the vent to block access to the attic. When you spot a nest in your home, you can count on Skedaddle Humane Wildlife Control for safe and effective squirrel removal. Contact us today for a squirrel-free home.
---
Where to go on Thursday….I juggled with one or two of my favourite birding sites, in the end the estuary magnet got a hold and off I went to Conder Green.
On Conder Pool, a Kingfisher was the star attraction, it landed briefly on the outflow where I'd wager it does a few times on a daily basis. I counted 68 Wigeon, 4 Goosander, and 2 Little Grebe, another was in the creeks. Three drake Goldeneye were my first of the winter on the canal basin at Glasson Dock.
Ten days after my visit to Cockersand 22 November, c.180 Whooper Swan have relocated to other fields, including up to 120 west of Gardner's Farm. On a wander, 12 Greenfinch, 8 Blackbird, a Song Thrush, at least 300 Golden Plover south of the abbey, and probably as many as 20 Skylark hidden in stubble off Slack Lane. 
The Grand Finale.
There was another grand finale for me again at Cockersand, though this time I left too early for the sunset.
View Full Screen
The Barn Owl performed impeccably for several minutes as it hunted over the fields north of the caravan park.
Stonechat Cockersand. Pete Woodruff.
The pair of Stonechat also put on a show for me again in the long grasses. But today, a bonus awaited me as I drove towards the gate to Abbey Farm.
Short-eared Owl Brian Rafferty
To make the grand finale complete, a Short-eared Owl was in front of me within 50 metres initially, but soon worked away from me as it hunted the inland fields and eventually disappeared east from view. 
Thanks to Brian Rafferty for the excellent image of the stunning Short-eared Owl. It perfectly mirrored what I saw through the windscreen at close range on Thursday afternoon. Putting this image up represents a huge thank you for the kind of photography he allowed me to use on B2B for many years. I sincerely hope he can resume some normality in 2022, and I can then continue to use his work again….I wish you all the best on your road to recovery Brian.
And Finally.
A second helping of the stunning sunset at Cockersand on Monday 22 November. Set to music, not necessarily the best choice, but as an experiment it's at least OK until I find something more appropriate.
---
I meet Gillian, Nino and Luis in the middle of the morning at our splendid bed and breakfast to drop off our things. After getting to know each other over a little coffee offered by our very welcoming hosts, we set off towards the Rocher du Caire. It is cool and humid this morning, but that does not prevent some vultures from already flying in the Saint-May gorges, above the road. We quickly reach the parking lot and set off for a short walk towards the cliffs.
The sky is cloudy, the air has not yet warmed enough, and few vultures attempt to take off. I decide to guide the group a little further down, where I know we could have a view of the vultures perched on the cliffs. Quickly we spot a few individuals and start photographing them.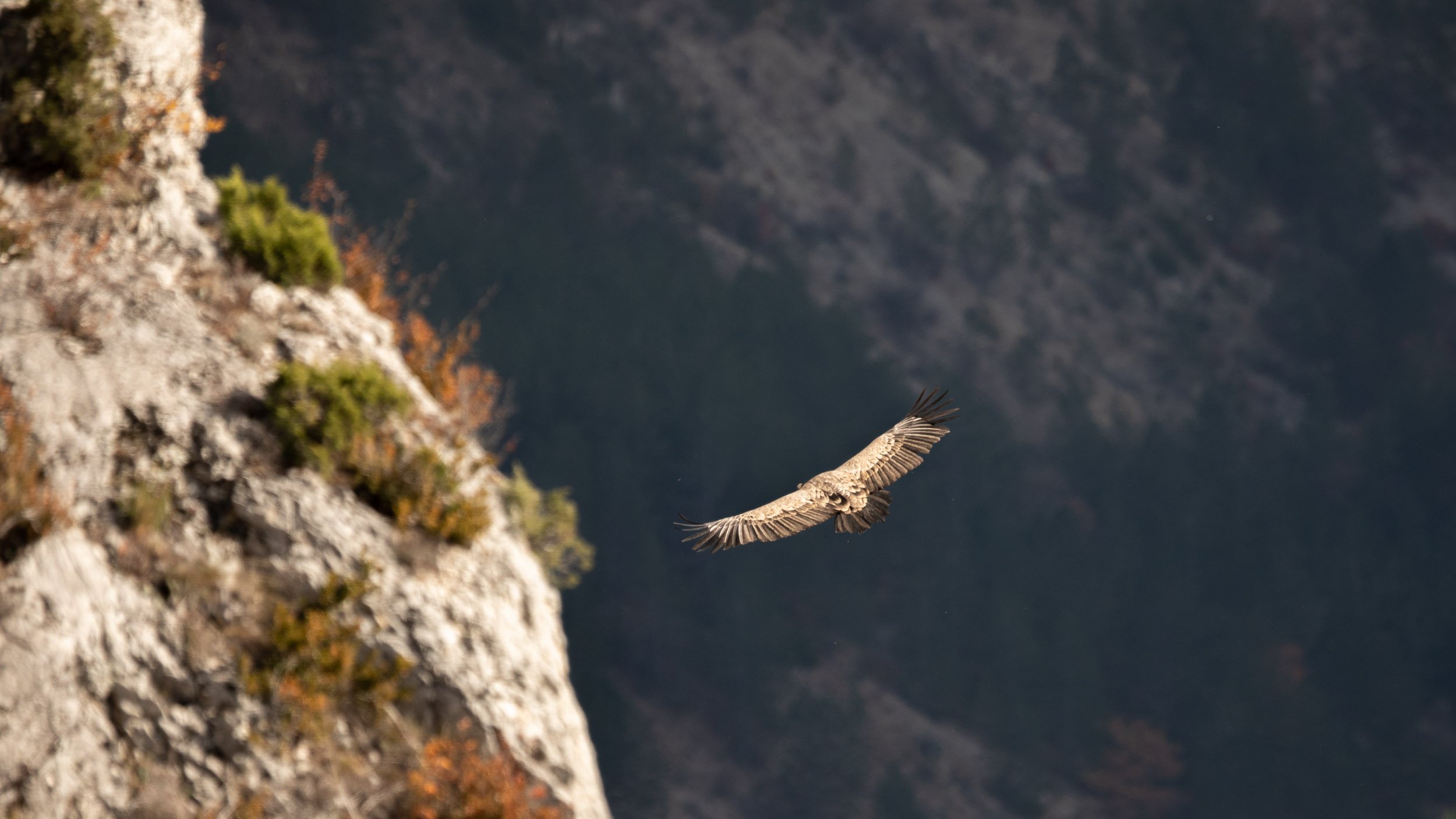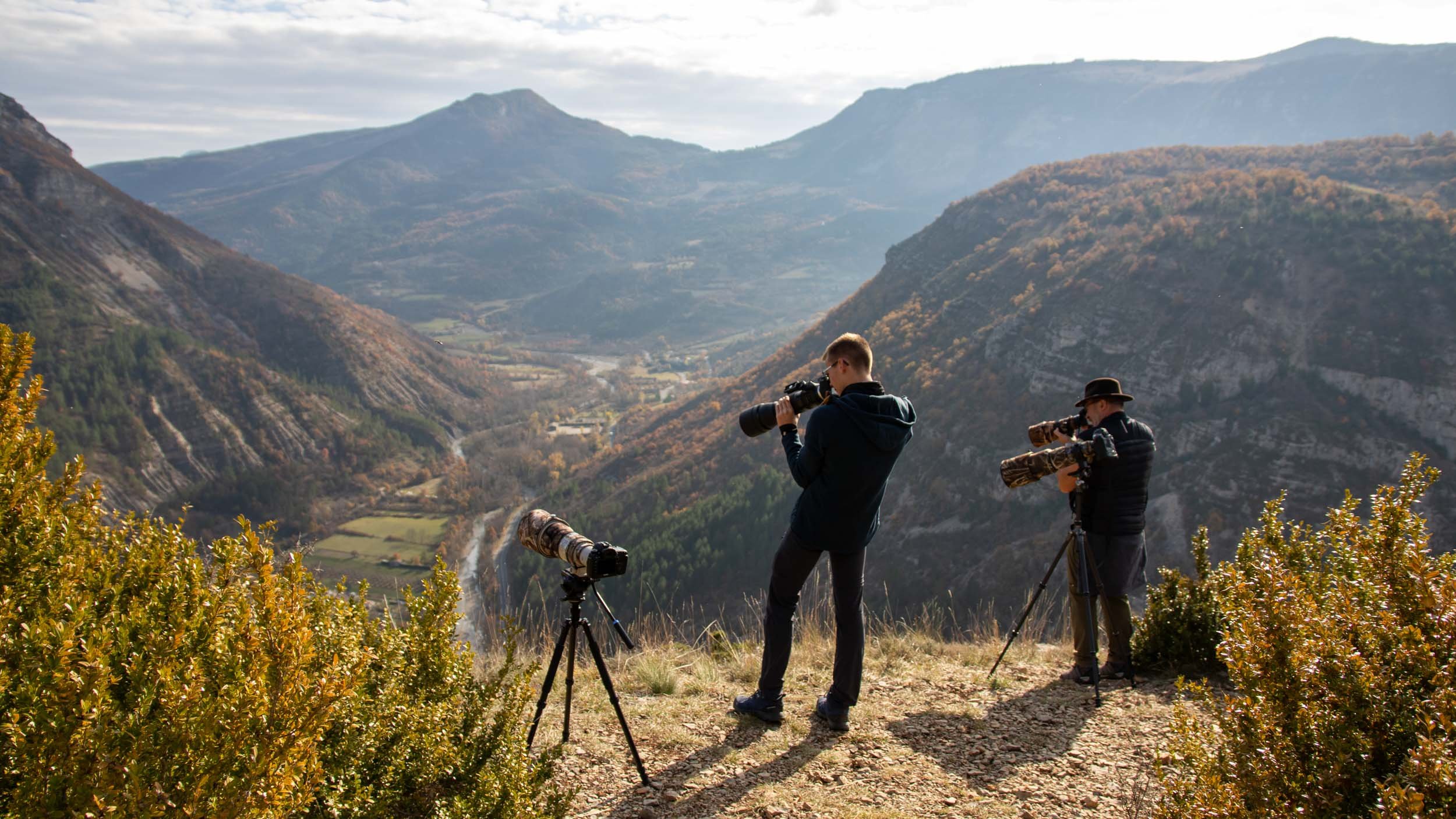 But the weather changes quickly and a little before noon the clouds start to disperse to let in the rays of the sun. Very quickly, many Griffon Vultures take flight to invade the sky, offering us a formidable spectacle! The light and colors of autumn make the landscapes sumptuous. We take the opportunity to make different images by trying to compose with a colored background or foreground.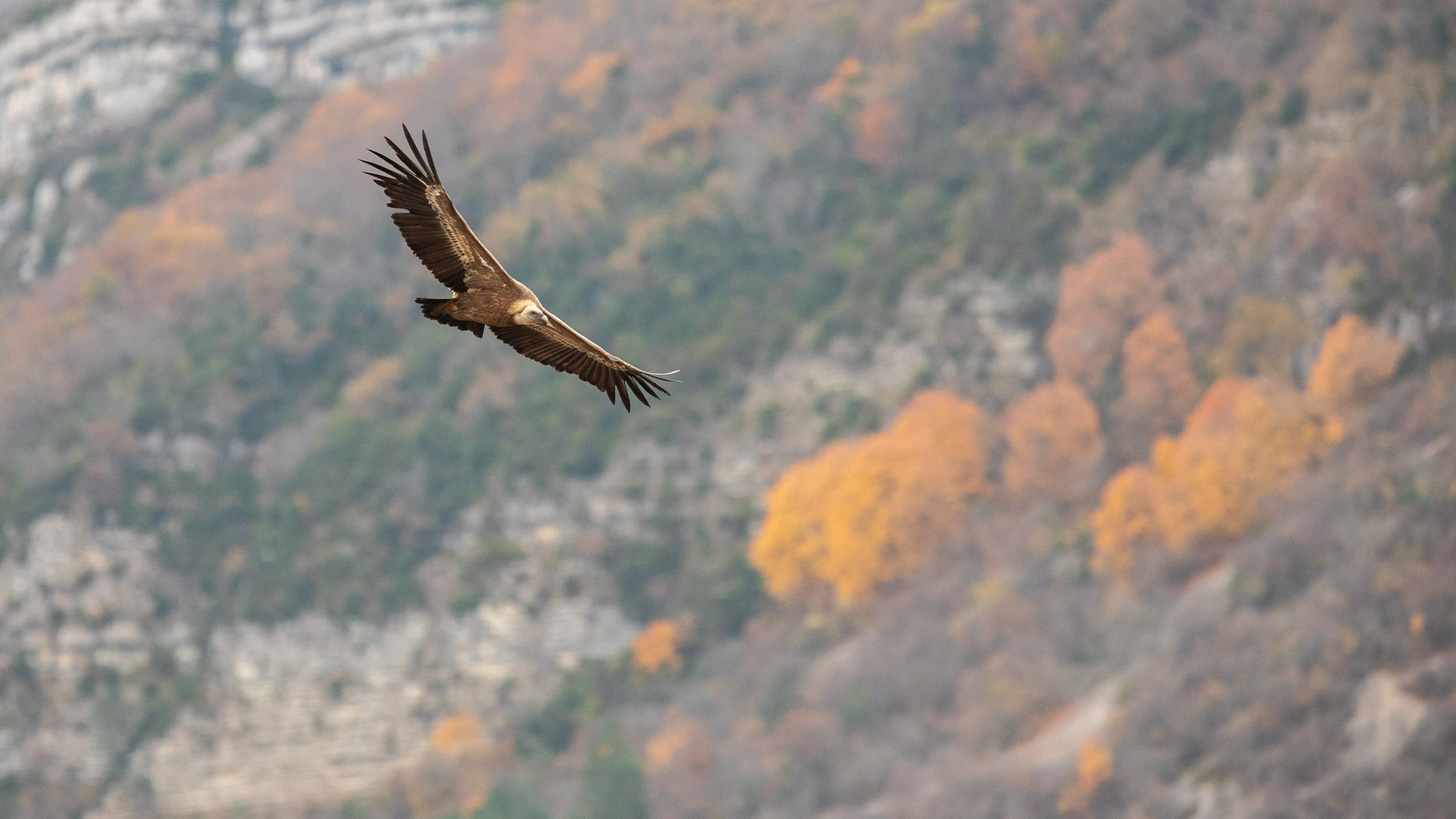 Griffon Vultures stay in flight in front of us for a long time as thermals are weak. The lack of wind makes their ascent into the sky all the more complicated. Some of them fly just a few meters over our heads.
Then comes the perfect time to take the picnic out of the bag! We have a great time before the show starts again. The cloudy afternoon promises us stronger thermals and even more activity!
Even before the end of the meal, vultures are back! And they are everywhere! Above us, at our height, below, and even behind! Everything is possible and we take the opportunity to disperse a bit and let everyone fully immerse themselves in this beautiful moment.
After long minutes of wonder and hundreds of photos, I spot a posed Griffon Vulture that seems quite close to a few observers. I call everyone and we decide to put our things away and get closer. After ten good minutes of walking, we reach the place. The Griffon Vulture is here, only fifteen meters away! We do not believe our eyes and do not miss a beat of this fabulous meeting. A rare moment, we are very lucky to observe such a wild bird from so close, for so long, and without disturbing! The light is ideal, the sun slightly hidden by clouds, and the vegetation in the foreground allows us to make images of incredible softness…
After more than fifteen unforgettable minutes, it finally flies away and we slowly come to our senses. We enjoy another good hour with many vultures around us before the end of day. A memorable day!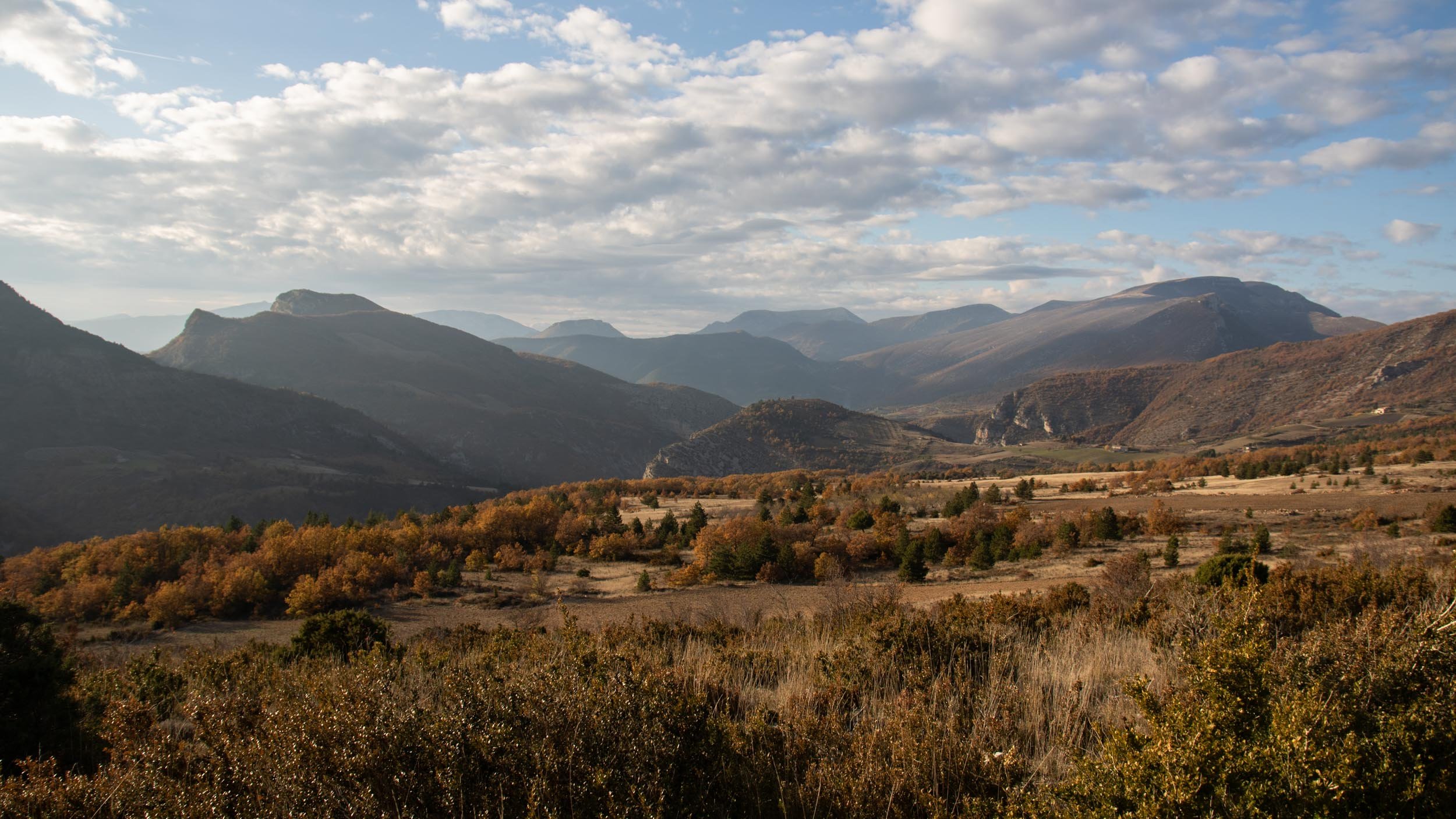 We return to the bed and breakfast for a short break and a little debrief of the photos of the day, before leaving for Villeperdrix for dinner in a typical restaurant offering only fresh and local products. Delicious!
After a calm and comfortable night, we get up early to enjoy the sunrise. We reach the Rocher du Caire and observe our first vultures in the distance. The wind is blowing a little more this morning but the sky is rather clear. A little bit of mist at the bottom of the valley cling to the trees, but the wind quickly blows it away. Light is splendid. Large Common Ravens play in the wind and croak while performing acrobatics!
Vulture activity does not start until very late. At least two hours after our arrival, the first individuals fly away. Today they are much faster than the day before, and do not hesitate to dive sometimes, taking advantage of the mistral which carries them without problem. Their passages over our heads are accompanied by the sound of the air in their feathers.
Autumn is already well advanced and the parades are starting. Many couples form and we regularly see majestic tandem flights. Sometimes they fly only inches apart with a precision that defies the best airplane pilots.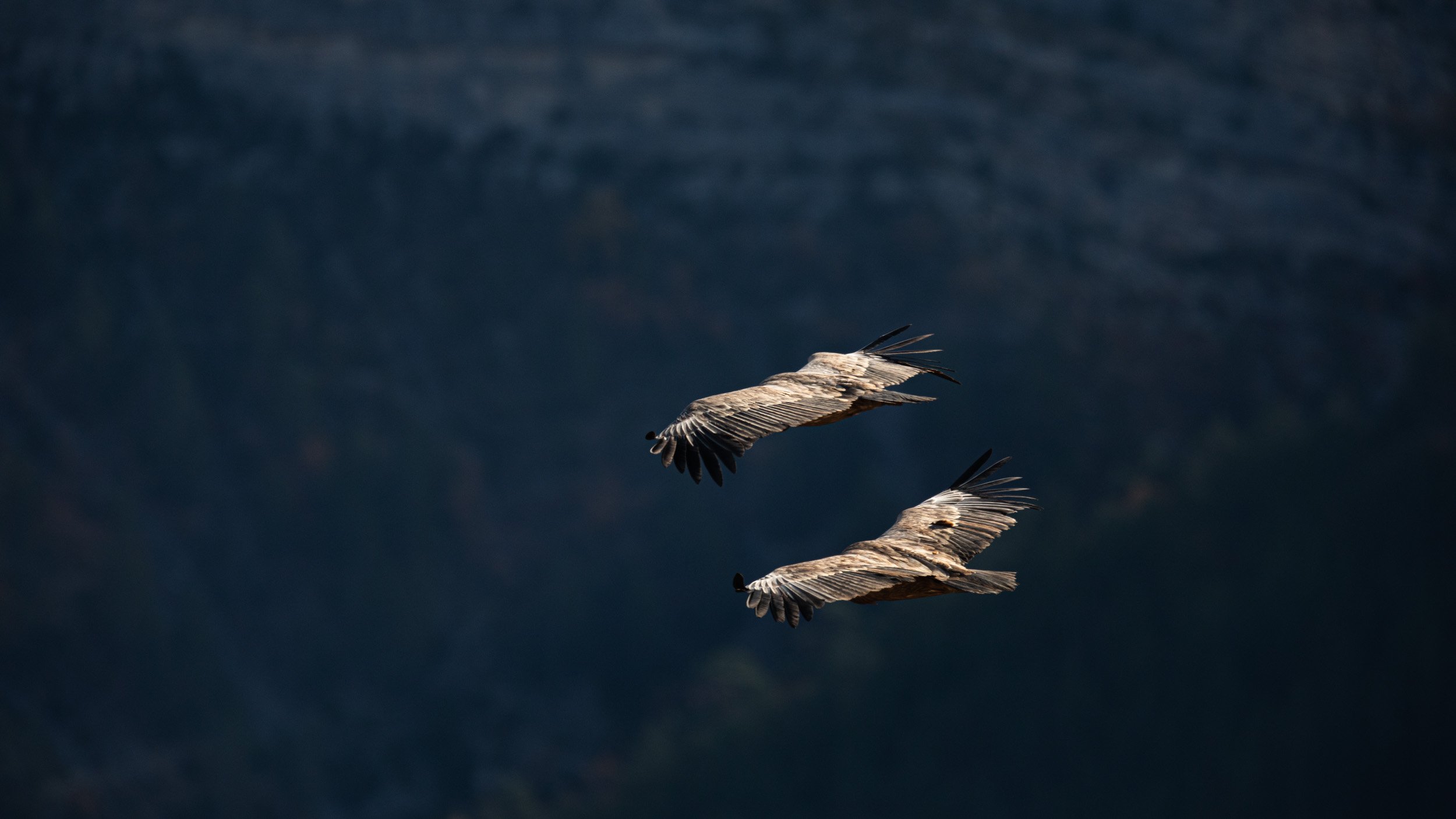 Suddenly, a fairly small and extremely fast bird dives from the sky towards the valley. A Peregrine Falcon! After his stealthy passage, he will come and rise in the air with the vultures in front of us, allowing us to photograph him.
The sun is now high in the sky. The bottom of the valley, still in the shade, is the perfect background for trying out chiaroscuro. We take advantage of very close passages to make some portraits of Griffon Vultures in flight and play with the light to capture the silhouette of their immense outstretched wings.
After many pictures we decide to eat. In the middle of the meal, a glance at the sky reveals the silhouette of the Cinereous Vulture! Two individuals are flying side by side quite high in the sky. We will have the chance to see them fly by twice.
A little later, it's the Golden Eagle's turn to make an appearance! High in the sky too, it will leave us little time to photograph its characteristic silhouette.
We will end the day in the middle of the afternoon, after having tried a few more artistic photos. Rémuzat is a perfect place to test new shooting techniques!
We return to the bnb to get our things and end this wildlife tour with a last little coffee. A fantastic tour, once again! We have new dates planned for this "Marvelling at Rémuzat Griffon Vultures" stay, don't hesitate to join us!
Arnaud
Guide Salva Fauna
---
The young gray wolf who took experts and enthusiasts on a thousand-mile journey across California died last month, ending a trek that brought hope and inspiration to many during a time of ecological collapse.
The travels of the young male through the state were a rare occurrence: he was the first wolf from Oregon's White River pack to come to California and possibly the first gray wolf in nearly a century to be spotted so far south.
The wolf, known as OR-93, was born in Oregon in 2019 in the White River pack. The pack is managed by the Confederated Tribes of the Warm Springs. A tribal biologist had collared OR-93 in June 2020 when he was just 14 months old – not fully mature but nearly ready to look for a mate – and took a photo of him, looking regal and languid after effects of the tranquilizer wore out.
OR-93 first entered California on the last day of January 2020, dipping his paws into Modoc county. Historically, gray wolves were found throughout California, but they were probably extirpated from the state in the 1920s. In 2014, officials listed gray wolves as endangered under the California Endangered Species Act, making them illegal to hunt, trap, harass or harm.
After his sojourn in California, OR-93 zagged back to Oregon, returning once more to California at the end of February.
He moved remarkably fast, Weiss says, padding around 16 counties between the first week in February and the end of March. He traveled more than 935 air miles (straight miles on a map), over three months in search of a mate and territory.
After reaching Yosemite national park, the wolf made a remarkable decision: he made a hard turn west and crossed the Central Valley of California – which means he somehow crossed three of the state's busiest roads – Highway 99, Interstate 5 and Highway 101. "How he did that is anyone's guess," says Amaroq Weiss, a wolf advocate with the Center for Biological Diversity. He may have found routes to cross under the highways through creek and river crossings, or he may have actually made his way across the road – which he would have had to do in the dead of night because the roads are so busy.
By 5 April, he had made it to San Luis Obispo county, on the central coast of California. At this point, his radio collar stopped working (researchers still do not know why). Some wolf fans worried that he had died, but then tiny signal flares went up again and again: proof of life for OR-93. A farmer's trail camera near a water trough captured a grainy picture of a wolf with a collar in May. In late September, three separate people spotted a wolf with a purple collar in Ventura county – one even captured video of him on a cellphone.
"This wolf, he will go the distance," said Weiss.
When a driver called in a dead wolf on the side of Interstate 5 in November, it sent a shock wave through the wolf community.
Authorities quickly identified OR-93 through his bright purple radio collar, and an investigation and necropsy results determined he died from trauma consistent with vehicular strike.
Looking at the place where OR-93 was killed, Weiss wonders if the wolf was headed back to Oregon to find a mate, after having struck out in California. November and December is the time when wolves are looking most aggressively for a mate – they prefer to be coupled up before mating season comes in February. Maybe the lone wolf realized he couldn't find what he needed in California and decided to head back home.
OR-93's days were probably driven by his nose, says Weiss. Scents may have sent him along a creek where he could have pushed aside rocks with his nose and played with fish or frogs – or his nose could have taken him to scents left behind by other wildlife, maybe finding bear scat and rolling in it to mask his smell so deer wouldn't know he was approaching. Smells may have even evoked memories of his home in Oregon. "I think a day in the life of a wolf is pretty much an adventure," says Weiss. "A search that's broken up by exploring new things you come across."
Since OR-93 was successful in finding prey and living a wolf existence deep into California, it shows that others could do the same, says Jordan Traverso, deputy director of communications, education and outreach for the California department of fish and wildlife. "He's like the first pioneer – but if one wolf can do it, it can be done. All of California is a historical wolf habitat and we like the things that belong here to be here."
Traverso adds that given wolves' stealth, it is possible other individuals are eking out an existence in parts of California where people would never expect to see them.
The territory OR-93 crossed is impressive, but it also highlights the habitat wolf conservationists hope will sustain the creatures. "It's almost as if he had the map that we've drawn, the lands that remain suitable with habitat in California," says Bethany Cotton, conservation director with Cascadia Wildlands. "Instinctively he knew where he could survive in the state and that is really impressive and hopeful."
His death also highlights the need for wildlife overpasses and underpasses – safe ways to get around impenetrable ribbons of asphalt ripping through the state.
Whether wolves will thrive also depends on the policies of the state they roam in, Cotton says. The Trump administration removed federal protections for wolves in 2020, returning their management to individual states. "We've unfortunately had a really negative turn in Oregon and in Montana and Idaho and other states that are aggressively managing the species," says Cotton. "And Idaho and Montana are allowing for hunting seasons and trapping seasons that could kill up to 90% of the population. So when you reduce those populations, they're much less likely to go ahead and disperse and go into unoccupied habitats further away."
The situation is a strong argument for why wildlife shouldn't be managed state by state because those borders are invisible to the wildlife, she says. "Wildlife travel according to ecosystems, not arbitrary political boundaries that humans have drawn on maps."
The epic journeys of individual animals like OR-93 help humans understand wolves better, Cotton says. "We can recognize on a human scale how far he traveled looking for a partner and looking for a place to call home. It really does help us recognize that they just aren't too different from us: these are animals looking for a good place to live and food to eat and families and we just need to let them be."
---
When the colder weather begins to set in, people can get a little paranoid about wildlife forcing its way indoors. While animals will make their way inside if there is easy access, most creatures prefer to stay away from humans. However, raccoon removal in Montreal does pick up in the late fall and early winter.
Raccoons are persistent and resilient animals, and if there is a way into your home, garage, or attic, they will find it. However, raccoons do not enter houses for fun; it is often out of curiosity and necessity. As with any wild animal, the winter months signal a time to seek out shelter and warmth.
Where Raccoons Sleep in the Winter Months
While you can learn how to get rid of raccoons, it is often easier to prevent intrusion than remove the species. Thankfully, raccoons are resourceful and intelligent animals, and they understand that cohabitating with humans is a risk.
Typically, a raccoon will nest in hollow trees in the winter months. If it cannot find a hollow tree, it might search for a shed or abandoned building. It is also common for a raccoon to kick other animals out of nests, taking control of the space and helping itself to the stored food.
The primary requirements for a shelter are warmth, access to food, and protection from predators. A man-made structure can supply all of the prerequisites of an adequate shelter. The only drawback to a house as a shelter is the presence of people.
Depending on the temperature and the availability of other potential nesting sites, a raccoon might choose a house, especially an attic, because it provides consistent temperatures and protection. Sometimes, the weather is enough to push wildlife to cohabitate with humans.
What Raccoons Eat During the Winter
Raccoons are omnivores, meaning they eat meat and vegetation. The animal's diet consists primarily of nuts, seeds, mice, bird eggs, and human food scraps. The species is known as a forager, meaning it will eat nearly anything and everything.
Because raccoons are opportunistic eaters, they have developed a reputation as trash or dumpster divers. It is necessary for homeowners to purchase trash bins that have lockable or latchable lids, especially during the fall and winter months.
As raccoons get ready to hunker down for the cold season, they will begin to scavenge more frequently, often getting into more trouble in neighbourhoods and cities.  However, the species will still look for food in the winter months.
Why Raccoons Might Appear in the Winter
Many people assume that seeing a raccoon in the winter means it is sick, but that is not true. Raccoons do not hibernate in the cold season; instead, they enter a state of torpor — a state of lowered body temperature and metabolic activity. Therefore, raccoons will still appear in the winter, primarily during warmer winter days and evenings. 
As with many neighbourhood species, torpor is an essential bodily state to survive colder conditions, but it is also used during extreme heat. The main takeaway is that raccoons and other species are still active in the winter, but not as much as in warmer conditions.
While activity in the winter does not signal illness, seeing raccoons around your home is still a sign you should call in wildlife removal experts. However, make sure you contact a humane removal service.
Skedaddle Humane Wildlife Control is one of the leading humane removal services in Montreal. The experts of the company will respond to any call quickly to assess the problem and determine the best methods for removal. Call one of Skedaddle's representatives to take care of your wildlife problem as soon as possible.
---
CHECK OUT EVEN MORE NATURE BLOG LINKS BELOW (SCROLL DOWN)
My LICHEN diary (from 25th Nov 2021)
3rd December 2021 – Dalton Crags (lower)
This is most likely to be: Cladonia pyxidata
But other possibilities are: C. pocillum, C. chlorophaea agg or C. monomorpha
This is most likely to be: Cladonia pyxidata
But other possibilities are: C. pocillum, C. chlorophaea agg or C. monomorpha
This is most likely to be: Cladonia pyxidata
But other possibilities are: C. pocillum, C. chlorophaea agg or C. monomorpha
This is most likely to be: Cladonia pyxidata
But other possibilities are: C. pocillum, C. chlorophaea agg or C. monomorpha
This is most likely to be: Cladonia pyxidata
But other possibilities are: C. pocillum, C. chlorophaea agg or C. monomorpha
2nd December 2021 – Slape Lane and Lower Lancelot Clark Storth.
1st December 2021 – Slape Lane 
25th November 2021 – Hutton Roof – East Side above Kelker
---
Thursday afternoon found me at one of my arable northwest Lancs wintering bird survey sites, under two oktas cloud cover, with a biting 2 – 3 NNW wind. And boy was it cold! That's the problem when you're standing still for several hours at a VP! In fact, I am looking at getting some of those heated socks; I must be getting old! I had some fairly good birds, including one that got away (more of that later), and some lovely skyscapes.
I'll start off with the skyscapes, with a series of pictures below illustrating how varied and quite spectacular they were. I was hoping for a decent sunset, but as the sun dipped towards, and below, the horizon, it just didn't happen. 
Not so many Brown Hares this afternoon, but nevertheless it was good to see at least two. Just to the north of my survey site, about 400 Pink-footed Geese kept lifting and dropping back down to feed, but they didn't budge from where they were feeding. A few Pinkies, 176 to be precise, flew over in different directions and in differing sizes of skeins. 
the same view of it as I had. I just thought it made a good image against the sky.
 
 There was still quite a few Woodpigeons feeding in the stubble turnips, somewhere in the region of 115, alongside seven Stock Doves. Good numbers of Jackdaws and Rooks were either in the stubble turnips with the Woodpigeons, or else on an adjacent field of winter wheat, and they numbered 298 and 150 respectively. Later I watched them fly to some local woodland to roost.
A few Redshanks surprised me, and they were a new addition to the site list, the first being a flock of five that looked as though they were going to land on a fairly open pond in some stubbles, but they flew on instead. Every time I walk past this pond on my way to my first VP location, I walk close enough so I can see all the margins as it looks good for a Green Sandpiper or two. I then had four fly north, and a single bird on a field of fairly recently sown winter wheat. The second of three new species for the site, was also a wader, in the form of a single Jack Snipe. It did that classic Jack Snipe thing; flushed when I was nearly on top of it, and then didn't fly very far! 
The third new species for the site, was a cracking female Merlin that belted east past me at a rate of knots. You can't beat a Merlin. Other raptors that made an appearance were three Buzzards and two Kestrels. 
There are still quite a few Skylarks in the stubbles and this afternoon I had 46. The movement of thrushes seems to have finished now, but on my travels around the site I recorded four Song Thrushes, four Redwings and 38 Fieldfares. 
The bird that got away was at the end of my survey towards sunset. I heard a bird calling, and my brain, very casually just for a nano-second, said "Yellow Wagtail!" Of course, in that split second, I was telling myself not to be stupid as it was the 2nd December, and then it called again, and I noted that it had a harsh quality to it! I struggled to get onto the bird as it was obviously fairly high, but I did manage to get on to it as it was flying away from me, and into a bright sky lit-up by a setting sun, and all I can say is that it was a wagtail! Frustrating, but that's how it goes sometimes! 
I was supposed to be ringing at the feeding station tomorrow morning, but it is forecast to be too breezy, so I'll still go and top the feeders up and see what's coming in to feed.

---
One of only two remaining populations of an "ecosystem engineer" truffle-eating marsupial found in Queensland is much smaller than originally thought and could be declining further, according to new research.
Scientists studying northern bettongs on the Mount Carbine Tableland in north-eastern Queensland have estimated the number of animals in that location is fewer than 50, sparking concerns about the viability of that population, even in the short term.
Northern bettongs have suffered enormous declines since European colonisation and are among the Australian species at high risk of extinction.
They live in eucalypt forest on the fringe of rainforest in the wet tropics world heritage area and have a diet that consists heavily of truffles.
The 30cm-tall marsupials are sometimes referred to as "ecosystem engineers" because of the important role they play in dispersing fungi when they dig in the soil for food.
Northern bettongs are found in only two locations, the first in Lamb Range in the Cairns region, where the population has been studied for about 20 years and numbers between 700 and 1,000.
The second, the Mount Carbine Tableland population in the Mount Lewis national park, has been less studied.
Researchers working with the Australian Wildlife Conservancy, the Western Yalanji Aboriginal Corporation and the Queensland Parks and Wildlife Service have been monitoring the Mount Carbine Tableland population since 2017.
They used cameras, live-trapping and GPS collars to track numbers and how the animals were moving through the habitat.
Manuela Fischer, a wildlife ecologist with the Australian Wildlife Conservancy, said prior to the surveys it was assumed the population in that area numbered up to 1,000.
But after completing surveys every six months for the past four years, she said the reality appeared very different.
"We've found that there may be as few as 50 animals left in that area which is much smaller than anticipated," she said.
"It's a very small population and definitely on the brink of extinction."
Fischer said researchers found the animals in that area had a lower body mass index than the animals in Lamb Range, where almost every female bettong captured during survey work was carrying pouch young.
"In Mount Lewis, it's only 50-60% of the females, which is very concerning," she said.
Fischer said the low numbers and geographic isolation meant urgent work was needed to try to boost the population.
Northern bettongs face multiple threats including from weeds, particularly lantana, and feral cattle and pigs that overgraze and dig, causing damage to their habitat.
Pigs also dig for truffles meaning the bettongs face competition for shelter and food.
The damage to their habitat puts them at further risk of predation by feral cats.
Other threats include a lack of active fire management.
Fischer said fire management regimes were essential for improving the structure of habitat and could help tackle problems such as lantana.
Since the surveys, a fence has been built to block cattle from entering the area the bettongs are known to occupy and there has recently been a prescribed burn to enhance the habitat.
"The next step is to muster the cattle out of the area and continue the ongoing fire and weed management strategies to improve the suitability of the Northern Bettong habitat," said Richard Grogan, the chair of the Western Yalanji Aboriginal Corporation.
A predator-free haven is being built at another location at the Mount Zero-Taravale Wildlife Sanctuary.
This may be used in future as a breeding site for animals translocated from the Lamb Range population. Animals could then later be released to try to build the genetic diversity of the Mount Carbine Tableland population.
"As specialist fungivores which eat and disperse truffles, northern bettongs play an essential role in maintaining the forest's health," Fischer said.
"Losing them would not only be a tragedy in itself, it would also have ripple effects across the wider ecosystem."
This article by Lisa Cox was first published by The Guardian on 23 November 2021. Lead Image: New research shows one of only two locations of northern bettong is much smaller than previously thought, sparking concerns about the viability of that population. Photograph: Wayne Lawler/AWC.
---
What you can do
Support 'Fighting for Wildlife' by donating as little as $1 – It only takes a minute. Thank you.
---
---
Fighting for Wildlife supports approved wildlife conservation organizations, which spend at least 80 percent of the money they raise on actual fieldwork, rather than administration and fundraising. When making a donation you can designate for which type of initiative it should be used – wildlife, oceans, forests or climate.
---
The light this morning is fabulous. I ought to get out and experience Rome as it wakes. Walking down the river Tevere, or the Tiber as the English-speakers seem to call it, is a glorious experience. Look at that light. It's time to use my Olympus Trip 35 and some film.
WordPress Cookie Plugin by Real Cookie Banner